That might be the last time you see my name associated with virgin…. but anyway…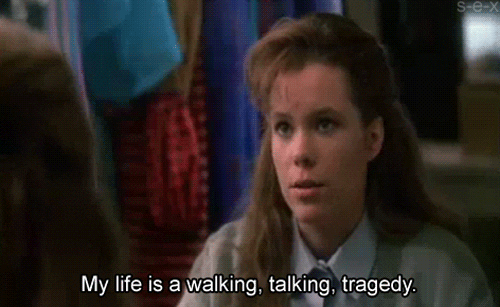 I attended the annual RWA (Romance Writers of America) this year. Prior to going I saw lots of comments and posts about attending and people saying how they looked forward to meeting people. I was so excited. I mean finally! I was going to get to meet these people that I became Facebook friends with and shared intimate details about my hectic life.
Like everyone else… I was excited… that quick-pulse excited feeling you get when you're next in line at the county fair for the fastest right. And if this were a fair and a line … I did something I've never done before.
I chickened out.
Again… let me reach into my bucket of excuses.
I like to put things at school grade levels to give an idea. Y'all know the hierarchy I'm talking about.
I will equate RWA to my 10th grade year at boarding school—but for a moment just imagine RWA as the new school that goes 7th through 12th. When I first arrived at boarding school I remember seeing these really cool girls. We all had to wear uniforms yet somehow they managed to make their plaid skirts, penny loafers and cardigans look cool. So when I saw how awesome these RWA authors were together, I had them in my mind like the popular upperclassmen. 
 They walked around in their cool spiky heels and I kid you not… a heavenly clouds parted through the crowd. They were every John Hughes 80's movie of cool crowds–the kind of people you wanted to hang out with, be friends with, or even be like.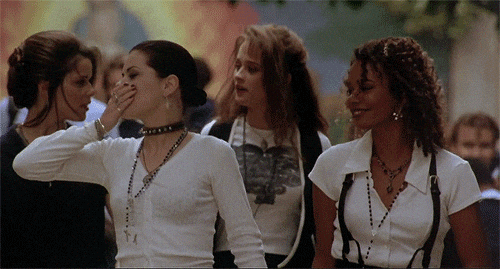 First day of the conference… The cool kids—I would put them at 10th or 11th grade with drivers' licenses and being able to go off campus for lunch—sat on a welcoming committee in all fabulousity.
  I lost my nerve to be like… "Hey! We are FB friends"…Because upon seeing them… I realized pretty much everyone on FB knew who they were.
But that was okay… some of the other folks I knew who were going
…. Well let's just pretend we'd gone to summer camp together before I started this "new school" and we were all like.. yay! Cool! We'll be at the same school.
<True story—I had the Joneses who lived across the street from me before I really did start 7th grade. I would hang out with them every summer when I came to visit my dad… and on the first day of school.. the girls did not acknowledge me at all. Strange… but I realized it was a their issue and didn't want to be seen with me for one glaring obvious reason
>
Anyway-back to my tale of my first RWA. In no way do I mean to accuse anyone of anything. These are strictly my over exaggerated insecurities. But people drove to town together. They took flights together. They shared rooms! They had their own agenda and didn't need me tagging along. 
I saw posts about "hey who wants to get drinks?" And me being my confident-internet-self agreed to drinks, meeting up, and lunch, and all other kinds of things. But when no one passed on any contact info & I saw these folks out and about with their new fabulous friends I was like..
"Oh, uh.. okay you wanted drinks or whatever with anyone else but me."
Some of my friends stopped and asked how it was going ….sure I said I was horrified .. but left it at that because I didn't want to be THAT girl.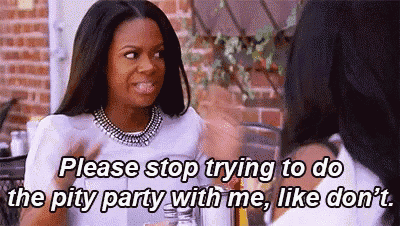 I wore a tag that indicated I was a first timer… I was sure—thanks to the welcoming committee— it would be an ice breaker or conversation-starter for first timers. In my imagination someone fabulous would say.. "oh you're new here, come sit with me" And then I would have lifelong friends…. But it didn't happen like I imagined. I sat down
and wrote—because this is an event for authors.
I attended a pajama party and I wanted to wear my pajamas but chickened out because I would have to walk this long trek across the hotel. So I didn't. I attended the party and no one else wore pajamas…whew! And then I saw her… a pretty blond in guess what?! Pajamas! I loved her instantly in the sense of… omg I could totally see myself calling you up and crying over a scene I'm trying to write… but of course I couldn't tell her that.
By the 2nd day I was like.. whatever. I'm just here for the lessons, publishing houses and books ….oh yes the books!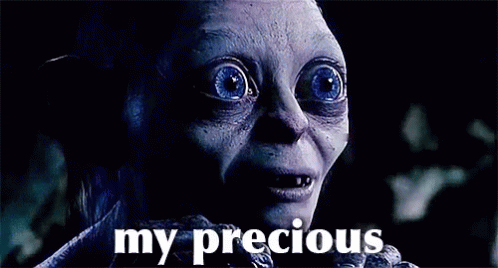 I sat in these workshops and listened to the authors on the panels and felt I finally found my friends. I wanted to be friends with THEM! They got me. They understood the anxiety of deadlines. They knew the guilt for feeding your kids pizza and the shame when the 5 boxes of pizza hit the curb for the neighbors to see. I took comfort in knowing I wasn't the only one who is introverted and just wants hide in a room and write rather than socialize.
I skipped the luncheon (I paid for it in the registration) because the room was crowded… tables were shoulder to shoulder and there was no way I could possibly sit down at an empty seat next to groups of people who traveled out of state together for this conference. A few of the kids from my "summer camp" suggest I just sit down somewhere (which I interpreted as sit somewhere else just not near me). So I ate my hamburger by myself at a bar seated across from another author on one side and a group of more popular kids… let's just refer to them as the
mythical angel club to my left (editors—yes I eavesdropped—and you know good and well I wasn't going to open my mouth and talk to them!)
Later on that evening after a pep-talk from my hubby who asked WWYCD (what would your character do) and I swallowed my pride, donned my long yellow gown and headed over. I didn't let the broken escalator stop me. Although I was tempted to turn around.
I walked right into the room and found a table of ladies and asked if I could sit and they all welcomed me. They were from Dallas. One of them bought a bottle of champagne for the table and I started to feel a lot better and included.
 Thank you for that!!
Back to the hierarchy of this event… There were the upperclassmen seniors (not age) I got to hug and talk to Ms. Bev
and I got to see and hug RITA Finalist Synithia Williams
Oh! And let's not forget
BTW.. someone saw a picture of me at this party with Ms. Bev (previously posted above), Brenda, and Farrah Rochon and commented… "Three of my favorite authors"……. um 
lol
By Friday I still had the mentality of being here for the books and workshops  
BUT…I was able to smile and the now somewhat familiar faces. It helped to walk through the lines to get autographed books and talk to people who encouraged me. I developed a girl crush on another one of the ladies in the cool kids group simply by her to-die-for shoes (that's normal, right?)
I attended the publishing houses and looked at it like Rush Week (y'all know my Kimani line is ending the end of 2018).
I attended my current publishing house's annual party
and ran into a fellow friend from on line and was brought into the circle. Look…. We even did a group picture
 I met up with other with the fabulous authors
Cathy Mann 
Brenda Jackson
Christy Jeffries
Yahrah St. John 
Taryn Leigh Taylor  
 and Katie Meyer
Janet Lee Nye
And I saw my in-my-head-BFF who said the magical three words …
Dance. With. Me.
Here is the in-my-head-BFF. Her kindness.. and my imagination really helped me overcome my insecurities and introvert-ism (that's a thing, right?) Thanks Chica!!
I danced until the end of the party.
By Saturday morning I entered workshops with a bit more pep in my step. I even had a few people tap me on the shoulder and say hey and sit down next to me like we're friends (which by now we are).
Needless to say by the end of the conference I wasn't as overwhelmed.  I survived and I came home with A TON OF BOOKS
New Knowledge
And great places to look for dresses!
Until next time!